MORE POWERFUL & USER FRIENDLY
high pressure type
Highly reliable and durable

High efficiency and low fuel consumption

User-friendly operational panel

Low noise level

Emergency shut-off device standard equipment

Air bleeding no longer necessary

Salt damage virtually eliminated Rotary screw, single-stage compression, Oil cooled

Delivered air pressure MPa

Free air delivery m3/min (cfm)

Receiver Tank Capacity ( m3 )

No, of Cylnders-Bore x Stroke mm

Diesel Fuel (ASTM No.2 or equivalent)

Trailer. No. of Tires x Tire Size*'
SOUNDPROOF ENGINE-DRIVEN COMPRESSORS
PERFORMANCE FEATURES
The energy produced by this high-pressure compressoris applicable to innovative technologies and new machines.
This type of screw compressors display full performance in a down-the-hole precess and a large-diameter boring process and can be applied to ground improving machines, pneumatic lifts, and concrete-blowing machines.The discharge pressure ranges from 1.03 MPa to 2.4MPa.
The DIS-1070XS is also equipped with a two-stage discharge pressure selector to meet a wide range of application requirements.
Highly reliable and durable
The advanced design of the non-friction, twin screw airends enables the DIS series compressors to generate consistantly steady streams of air. The special bearings incorporated into the airends are carefully selected for use with twin screws and are highly reliable and durable.
High efficiency and low fuel consumption
The engine speed control system, developed by Denyo, incorporates a highly efficient screw that saves fuel and improves performance at all rated conditions, and guarantees high overall operating efficiency from no-load to full-load conditions, Fuel consumption has also been significantly improved at light and medium load level.
User-friendly operational panel
The control panel on the DIS series compressors has been placed on one end of the unit for easy operation.
The DIS series compressors no longer require air bleeding, thanks to the development of an automatic air bleeder and emergency shut-off device.
Easy inspection and maintenance
Compressors are equipped with a large-sized door and single-side access for daily inspection and easy maintenance. Also, the hood is designed for easy disassembly for maintenance and cleaning of the engine, radiator, compressor oil cooler, and fuel tank replacement.
These small, lightweight compressors are equipped with a unique soundproofing system. The average value of noise at a distance of 7m is 64-76dB(A) at rated operation.
The engine equipped with the Closed Breathing System which keeps the blow-by gas in the machine, and the alminum radiator which does not cause lead pollution is categoried as a construction machine that satisfies the emission gas regulation stage 3 (60LBE,80LBE, 140LB,140LB-C,) stage 2, enforced by the Ministry of Land, Infrastracture and Transport.
(DIS-60LBE,80LBE .80LBE-C) ECO-BASE is a base which has an oil receiver installed inside. You do not need to put an extra tray on the bottom of compressor. It is designed to receive fuel, oil and coolant water when they are discharged accidentally.
Emergency shut-off device standard equipment
If a malfunction occurs, the emergency shut-off device will automatically illuminate a warning light and stop the engine.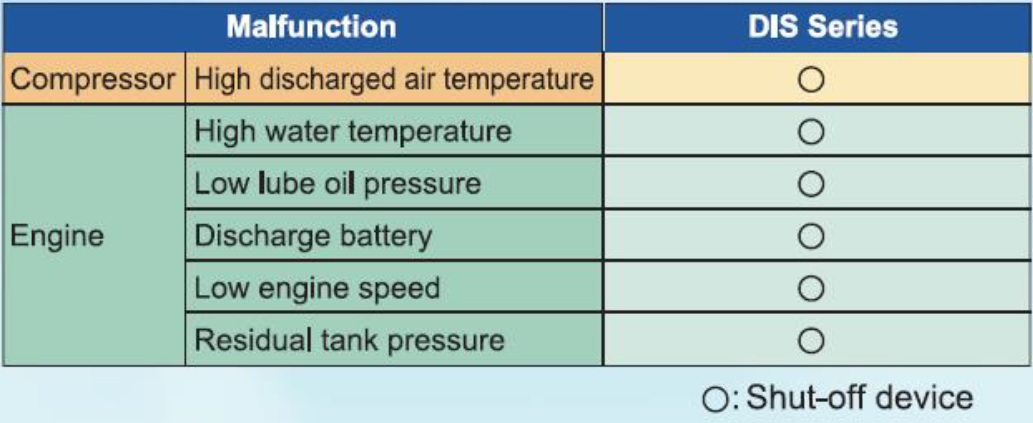 Air bleeding no longer necessary
Unlike larger units equipped with automatic air bleeder or emergency shut-off devices as standard equipment, the DIS-80 and smaller units no longer require air bleeding. The engine can be started at any time without air bleeding. For more information, refer to the emergency shut-off device and automatic air bleeder sections on the back cover page.
Salt damage virtually eliminated.
DIS-600 and larger compressor models are coated with an anti-corrosive substance that prevents damage due to salt and moisture,and stainless steel bolts have also been used on the exterior. Denyo's high standards for electrical wiring and connector insulation have been utilized in these new and improved machines.
Denyo has developed a sturdy, lightweight and easily attachable one-touch hose reel which can be mounted on top of compressors. With slight modifications, a single stora'ge reel can be mounted on DIS-60~80series models, while DIS-140~180 units can accommodate two hose reels. The units can also be stacked for effective storage.
Trailers and caster can be fitted to generators to facilitate on-site movement.(For DIS-60to 180 compressors are four-wheel caster or two-wheel trailer)
Bolt connectors make mounting and dismounting simple.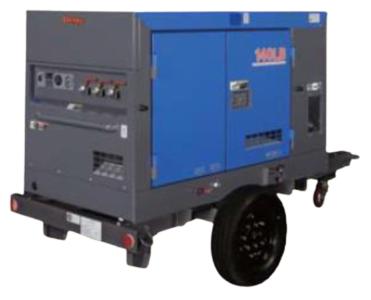 Fuel Line Switching Device(3-Way Valve)
On DIS-685and larger units, this device makes it possible to switch from the compressor's built-in tank to a line for an auxiliary tank for long operation, without refueling.Models DIS-600EHS, 685ESS/ESS-D, 800ESS are equipped with this device as standard equipment.